To ensure reliable shortwave communications over whole Switzerland, there was a great demand of high power shortwave transmitters and receivers in the years of World War II.
As shortwave equipment from Swiss production with sufficient frequency coverage and output power was lacking (the FL 40 station covered shortwaves only up to 4500 kHz, the later KL 43 had a modified transmitter tuneable up to 12 MHz but was available only in small numbers), the Swiss Air Force technicians decided to re-use shortwave wireless equipment from U.S. bomber aircraft which had made an emergency landing or had been forced to land when entering Swiss air space.
The U.S. Signal Corps SCR-287 equipment has been used on a GMC truck for mobile operation (designation SE-018/m) and in fixed installation in "mountain stations" (designation SE-018/f).
These fixed "mountain stations" have been used to link the airfields of Swiss Air Force, they could be operated manned or remote controlled.
The Transmitter BC-375-E is 58 x 51 x 23 cm wide and has a weight of 23,8 kg, there are six tuning units with 6,5 kg each to go with it. The tuning units cover 1,5-3 MHz (TU-5-B), 3-4,5 MHz (TU-6-B), 4,5-6,2 MHz (TU-7-B), 6,2-7,7 MHz (TU-8-B), 7,7-10 MHz (TU-9-B), 10-12,5 MHz (TU-10-B) and longwaves 200-500 kHz /TU-26-B). To select the desired band, the matching tuning unit has to be inserted in the transmitter cabinet.
The transmitter is powered by a dynamotor PE-73-C, it can be powered from 24 (truck battery) or 28 V DC (aircraft power system).
In the transmitter, a valve VT-4-C (corresponding RCA type 211) acts as oscillator, two more VT-4-C valves as modulator and a fourth VT-4-C as transmitter output tube, it's plate modulated; a VT-25 (RCA 10Y) is used as microphone / AF amplifier.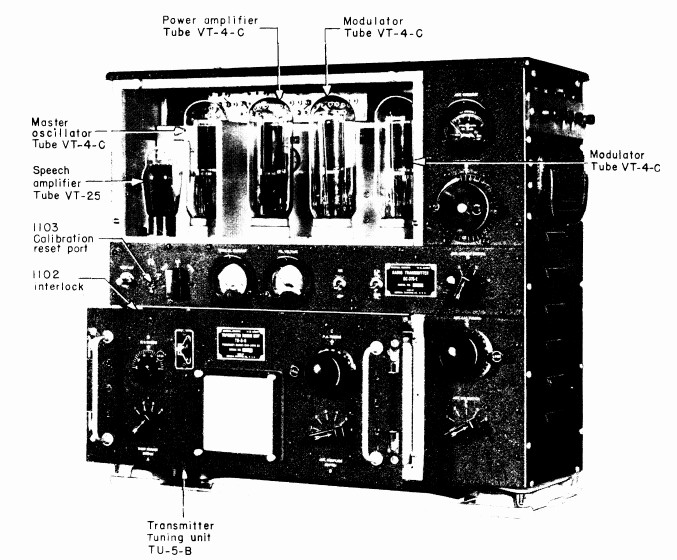 The Receiver BC-348, the Swiss variant carries a "H Empfänger" (receiver of H station) typeplate, comes in a black aluminum cabinet (this to remember, the SCR-287 is an airborne station), it's dimensions are 46 x 23 x 22 cm and it's weight 20 kg.
The receiver is a single superhet with an intermediate frequency of 915 kHz. The RF signal from the antenna has to pass two tuned RF preamplifier stages (two valves 6K7 / VT-86) and is fed to the mixing stage (6J7 / VT-91) to generate the intermediate frequency of 915 kHz with the signal from the main oscillator (6C5 / VT-65). After the IF amplifier stages (1st IF: 6K7 / VT-86, 2nd IF: 6F7/VT-70, 3rd IF: 6B8 / VT-93), the signal is demodulated (diode system of valve 6B8 / VT-93) and fed to the AF output stage (41 resp. VT-48, later 6K6GT). The second triode sytem of the 6F7/VT-70 is used for the beat frequency oscillator for CW reception.

A complete station consists in standard configuration of two receivers BC-348 (with dynamotor inside), two transmitters BC-375-E with their tuning units, dynamotors PE-73-C, a wave meter BC-221 and in some cases a mains power supply made by Zellweger AG, Uster.
I would be very thankful for further information and images.